Bethesda heeft aangekondigd dat de beta van hun nieuwe pareltje Fallout 76 begint in oktober. Een exacte datum is er nog niet, we weten wel dat de beta eerst beschikbaar komt op de Xbox One en pas later op de PS4 en PC.
Bethesda laat dit zelf weten op Twitter: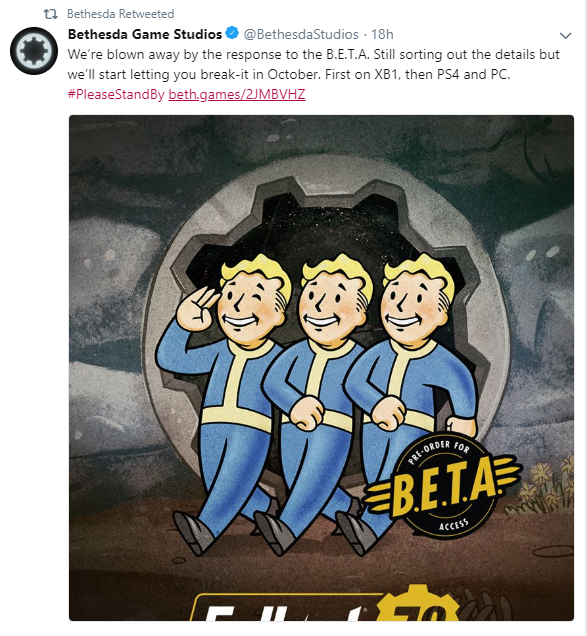 Als je de link volgt die in de Tweet staat, kom je bij het uitgebreidere statement van Bethesda. Iedereen die de game heeft gepre-ordered bij een deelnemende verkoper (bol.com bijvoorbeeld, en daar worden we niet eens voor betaald) krijgt toegang tot de beta.
"Starting in October we'll be selecting people who have pre-ordered the game from a participating retailer to enter our B.E.T.A. We'll start small and grow over time as we prepare for launch. 
EDIT: To clarify, everyone who pre-orders at a participating retailer will be included in the B.E.T.A."
Fallout 76 ligt chronologisch aan het begin van de tijdlijn van de Fallout games, in andere woorden, het is een prequel van de andere games in de serie. Het speelt zich af in West-Virginia en is volledig online te spelen, dus er bestaat een kans dat je zorgvuldig opgebouwde basis kapot gemini-nuked wordt door opgeschoten kinderen. Hoe dat uitpakt, gaan we nog zien. De game komt op 14 november uit op Xbox One, PlayStation 4 en PC.