Basketbal, check. Arcade, check. De hele avond met vrienden "ragen", check. Voeg daar nog wat basketballegendes aan toe en je hebt een prachtig recept om tot een game als NBA 2K Playgrounds 2 te komen. Een recept wat in de vorige eeuw al werkte voor NBA Jam blijkt nu nog altijd een succes te zijn.
Opzet 
NBA 2K Playgrounds 2 is een 2v2 arcadegame welke zowel solo, coöp als online gespeeld kan worden. Het draait om het winnen van wedstrijden en het liefst op een zo bizar mogelijke manier: Ally-oops en dunks die als Harlem Globetrotters 2.0 beschouwd kunnen worden.
Bij de eerste keer starten van de game krijg je een aantal pakketten om te openen. In deze pakketten zitten spelers uit verschillende teams en een aantal items om je speler te kunnen modificeren.
De spelers komen zowel uit het heden als verleden en hebben verschillende statussen. Zo heb je de categorie "Epic" en "Legend". Denk hierbij aan namen als LeBron James, Magic Johnson, Michael Jordan en Allen Iverson.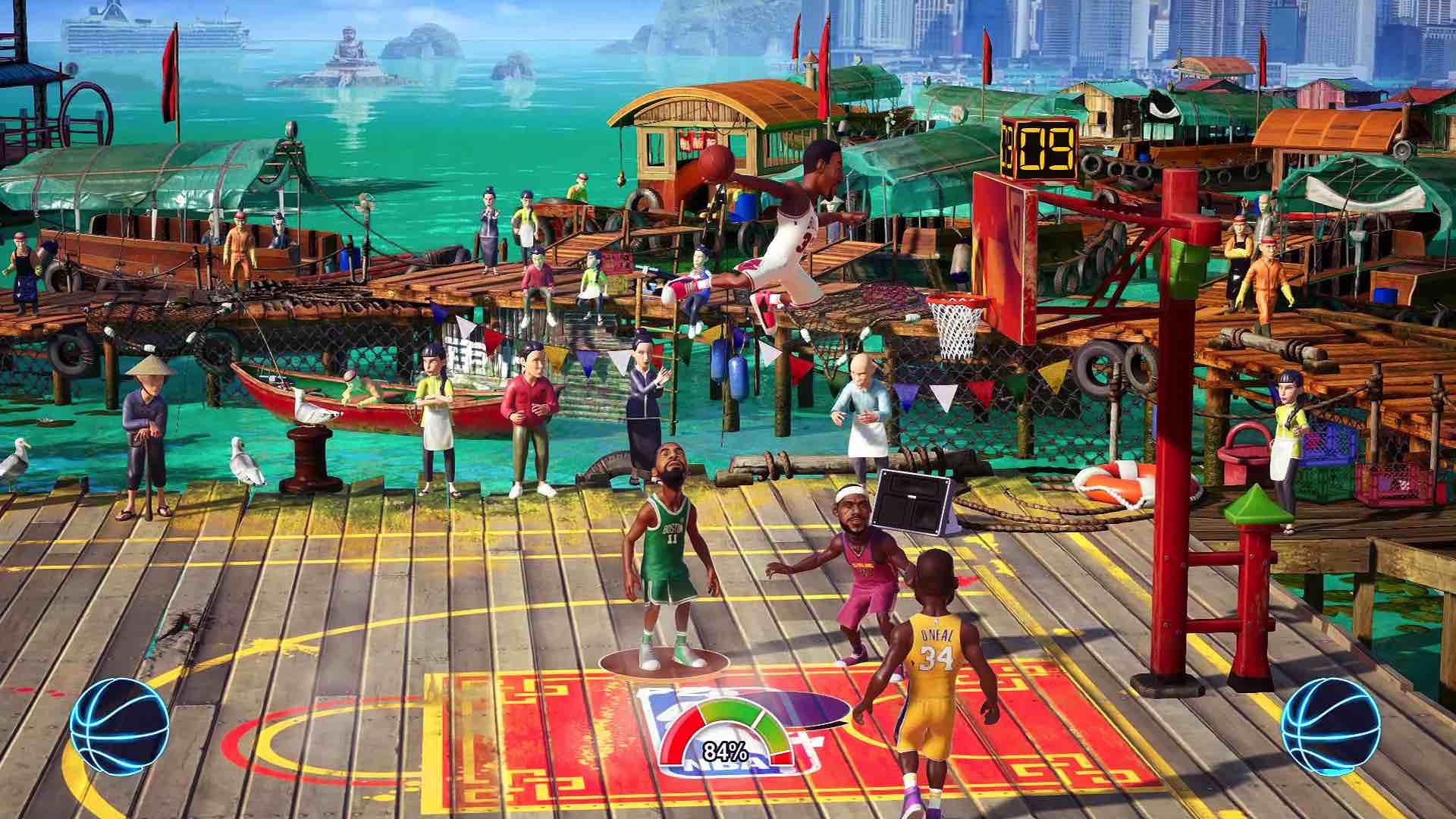 Alle spelers in je beheer starten op het bronze niveau en zijn via zilver en goud op te werken tot zelfs het diamanten niveau. Ervaring vergaar je door schoten te blokken, rebounds te pakken en prachtige scores te verzorgen. Bij het levelen zullen tevens de skills verbeteren. Naast xp verdien je ook ingame tokens waarmee je nieuwe pakketten kan unlocken.
Bij goed spel vergaar je in de wedstrijd bonussen. Je basket krijgt een laag ijs, je hebt unlimited speed of je tegenstander is ziek. Kortom: allerlei irreële bonussen die het arcade-effect versterken.
Gametypes 
In de Exhibition modus heb je de vrijheid om met alle vrijgespeelde sterren te spelen en de spelinstellingen aan te passen. Het ideale speltype om kennis te maken met de game.
3-point shootout geeft je de mogelijkheid om in een 1 tegen 1 situatie zoveel mogelijk 3-punters te maken. Het gaat hierbij vooral om de timing van je schoot, wie dit het beste doet in een "best of 3" wint de shootout.
Nieuw in de game is het NBA-season, waarin je met één team een seizoen speelt in wedstrijden van 3 minuten. Nadeel in deze modus is dat je niet zo maar je favoriete team kan kiezen, omdat je minimaal twee spelers van dat team in je bezit moet hebben. Naast de bovengenoemde gametypes is het natuurlijk ook mogelijk om online te spelen.
Conclusie
NBA 2K Playgrounds 2 is een toffe game om te spelen, zowel solo als met vrienden. Afgelopen week de game erbij gepakt om samen met een vriend te spelen en binnen no-time was er een uur verstreken.  De emoties tijdens het spelen schieten alle kanten op: het ene moment lijk je in kansloze positie, waarna je in de laatste paar seconden de winnende dunk binnen werkt. Dit is ook iets wat andersom gebeurd en bij vier potjes op een rij frustreet het enorm.  Desondanks is het een game die je er makkelijk bij pakt op het moment dat er maar een half uurtje de tijd is om te gamen.
NBA 2K Playgrounds 2 | REVIEW
HOT!
Heerlijke arcade sfeer
Toffe dunks en gameplay
Snelle gameplay, waardoor je het spel er makkelijk bij pakt bij beperkte tijd om te gamen
NOT!
Beperkte spelers om het spel mee te starten
Ingame token beloningen zijn niet gigantisch, waardoor je veel moet spelen om een pack te kunnen openen