Gaat de nieuwe Call of Duty zich afspelen in de toekomst, wordt het een remake van de Modern Warfare reeks of zal het dan toch een nieuw deel in de Ghost serie worden? De tijd zal het leren, want aankomende dinsdag wordt bekend gemaakt wat Infinity Ward ons gaat brengen. Tot nu alleen weer geruchten.
Want gisteren is er een opmerkelijke ontdekking gedaan in de PlayStation Store van de Verenigde Staten. Vanuit het niets verscheen daar ineens de titel: Call of Duty Infinite Warfare bij het Trending gedeelte van de winkel. De ontdekking werd zojuist gedaan en als je erop klikt krijg je alleen een blauw PlayStation-scherm. Zoals je kunt zien in onderstaand scherm: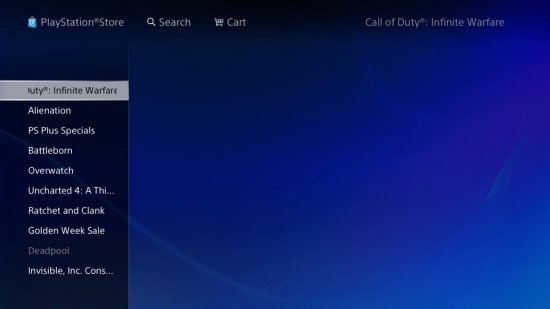 Blijkbaar krijgt de volgende Call of Duty de titel Infinite Warfare mee, wat wijst op Infinity Ward de ontwikkelaar van de game. Onze hoop is gevestigd op een remake van de complete Modern Warfare serie. Wat hoop jij?