The Witcher 3 is nog steeds een kek, uitgebreid en vermakelijke game. Deze krijgt ondertussen de ene na de andere DLC pack voor zijn kiezen, en laat het nu zijn dat de aankomende DLC is uitgelekt!
Valve heeft blijkbaar per ongeluk de pagina van de tweede DLC voor The Witcher 3: Wild Hunt online geknald. Deze is inmiddels alweer offline gehaald, maar dankzij een oplettende Steam-gebruiker hebben we onderstaande screenshot waar je kunt zien dat The Witcher 3: Wild Hunt – Blood and Wine vanaf 30 mei beschikbaar zal zijn.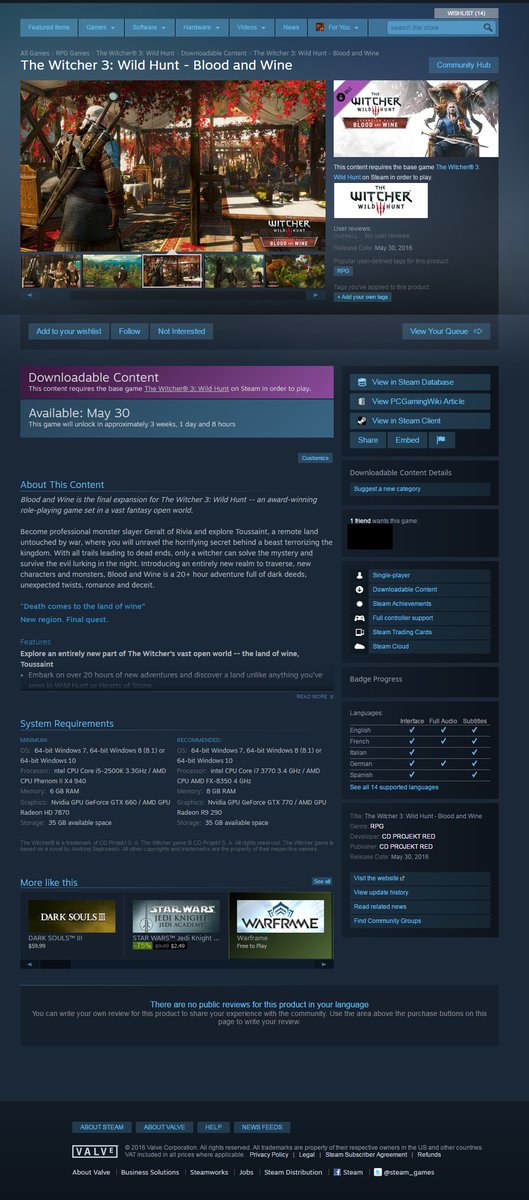 CD Projekt Red liet al eerder weten dat ze deze maand met een shitload aan details over deze tweede DLC voor The Witcher 3: Wild Hunt komen. En ondanks dat bovenstaande screenshot geen officiële aankondiging is, klinkt eind mei zodoende in ieder geval redelijk aannemelijk.
Blood and Wine belooft een grote en verhalende uitbreiding te worden, welke vol met plottwists zal zitten, een nieuwe kleurrijke regio bevat met duistere geheimen. Volgens CD Projekt Red zal je met deze DLC minstens 20 uur zoet zijn. Het was overigens oorspronkelijk de bedoeling dat we aan het begin van het jaar alweer met Geralt aan de slag mochten, maar door uitstel bleef de releasedatum daarna onzeker.
Zet 30 mei in je agenda voor de Blood and Wine DLC. Mocht de data alsnog veranderen lees je het op StarGamers!