Hoewel de game plaatsvind in Egypte, zul je voor deze loot geen gevaarlijke tombe of piramide hoeven te trotseren. Geen gevaarlijke gangetjes, gifpijltjes uit de muur of een grote rots die achter je aan rolt, maar gewoon je zuurverdiende knaken op de toonbank smijten.
Assassin's Creed Origins komt namelijk weer met de nodige special editions. Amazon heeft namelijk de pre-order voor Assassin's Creed geopened inclusief een aantal special editions:
de Deluxe Edition ($70)
de Steelbook Gold Edition ($110)
Gods Collector's Edition ($110)
Als je de Deluxe Edition vooraf bestelt, krijg je namelijk de "secret of the first pyramids" missie als bonus erbij. Daarnaast krijg je de "Ambush at Sea" missie er ook nog bij en krijg je de Desert Cobra Pack met items en skillpoints (zoals te zien in onderstaand plaatje).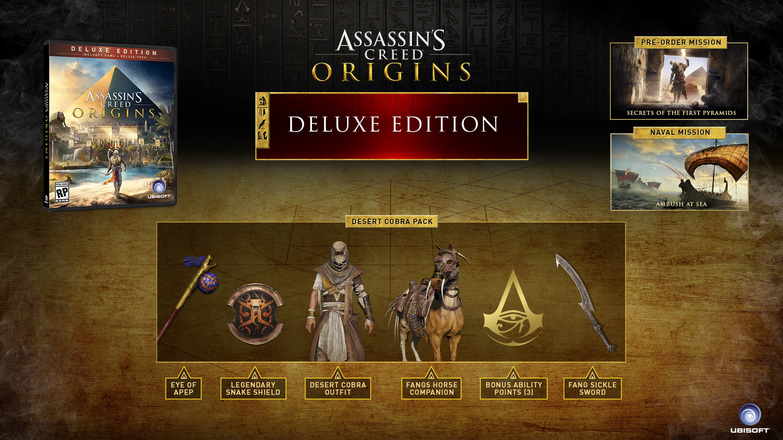 De Steelbook Gold edition heeft alles wat de Deluxe Edition ook heeft, maar heeft daarnaast ook een steelbook cover gamehoesje en je hoeft het komende jaar dan ook niet achter de DLC aan. Je krijgt de season pass er namelijk ook bij. De Gods Collectos Edition breidt het pakket nog eens flink uit met de soundtrack van de game, de kaart van de gamewereld, een artbook van Assassin's Creed Origins en een figurine van Bayek.