Beetje bij beetje is Microsoft zijn lijst van Backwords Compatibility games aan het uitbreiden. Het lijkt erop dat we binnenkort weer een hand vol Xbox 360 games op de Xbox One kunnen gaan draaien. De lijst met games komt niet als een verassing, maar wel dat het binnenkort al lijkt te gaan gebeuren.
De afgelopen dagen heeft Microsoft mailtjes rondgestuurd met de volgende afbeelding erin. Zoals te zien is zou het gaan om een reeks games die eerder al bekend was voor voor backwards compatibility in de toekomst, namelijk: Bioshock 1, 2 en Infinite, Call of Duty: Black Ops 1. Skate 3 en Halo Wars. Hoewel de games op dit moment nog niet beschikbaar zijn, zou dit de aankomende dagen kunnen veranderen. Zo lijkt Halo Wars al beschikbaar te zijn voor Microsoft preview members en het lijkt slechts een kwestie van tijd voor we met alle games aan de slag kunnen. Persoonlijk ben ik erg blij met de Bioshock serie, zodat ik daarvoor niet opnieuw mijn Xbox 360 hoef aan te sluiten.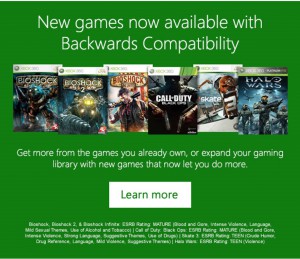 Behalve de toekomstige update, zijn op dit moment Alan Wake, Castlevania: Symphony of the Night en Pac-Man aan de lijst van games toegevoegd. Dus tot de tijd van de nieuwe update kun je alvast deze games spelen op de Xbox One, want laten we eerlijk zijn. Wie wil Pac-Man nou niet?