GOOD NEWS EVERYONE!
Dit  keer geen stortvloed aan woorden. Of een barrage aan letters en spelfouten (alhoewel de spelfouten). Maar puur enthousiasme over de geruchten van een nieuwe Fallout. Fallout? ja Fallout!
Terwijl mijn bovenbuurvrouw haar opera zangkunsten oefent, tik ik in het wilde weg en jaag ik op meer info over het gerucht dat er een nieuwe Fallout uitkomt.
Dit zijn de geruchten en feiten:
De game community is als het ware opgeblazen na het nieuws dat Bethesda de E3 conferentie gaan hosten. Deze zal plaatsvinden in Hollywood, 14 Juni 2015. Check hun blog,  http://www.bethblog.com/page/4/
De E3 conferentie is een Valhalla voor gamers en game developers. Vooral voor de developers is het een manier om nieuwe titels te showcasen. Uit dit nieuws zijn de geruchten dus mede onstaan.
BETHESDA
Bethesda is een big boy in de gamescene met een reeks titels achter hun naam. Denk aan titels zoals alle Fallout delen, Wolfenstein, Rage, de Elder Scrolls serie en The Evil Within.
BULLSHIT FACTOR
Er is onlangs een site opgedoken met daarin een countdown en een serie letters die zich als code moeten voordoen. Dit heeft tot vele discussies geleid of er daadwerkelijk een nieuwe Fallout aan zat te komen. De site is inmiddels getraceerd naar  Polen en blijkt een dikke HOAX te zijn.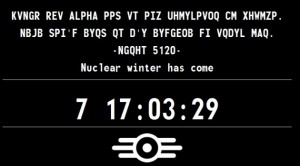 PRETTY PRETTY PLEASE?
Ik ben heel erg enthousiast en zal met smart wachten tot de E3. Meer nieuws en updates volgen nog! Voor in de tussentijd kan je eventjes genieten van een leuke filmpje van Fallout New Vegas. Just to remind you assholes!